About Pain Relief Sciences
Pain Relief Sciences shares Medical Journals and News Articles with a central focus on chronic or persistent pain. There is a global need for specialized research into the causes and treatment of chronic pain in humans.
Pain affects more people than diabetes, heart disease and cancer combined: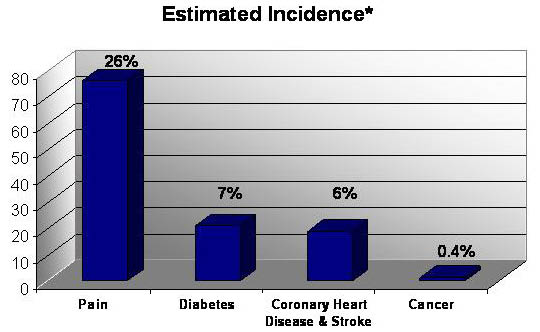 Nearly half of people who visit a doctor in the US are seeking treatment for chronic pain, and lost productivity due to pain totals at least $80 billion each year in the United States alone.  The toll worldwide is much higher. In the last 40 years, researchers have made important progress in understanding the molecular mechanisms and neurobiological underpinnings of pain, but few of these discoveries have been translated into new treatments or other patient-relevant advances.
Pain Relief Sciences is committed to empowering people to regain a high quality of life and not be plagued by chronic pain. Our objective is to help people suffering from chronic pain of any type –headache, migraine, back pain, knee pain, etc, to gain a comprehensive understanding of their problem and start them off on their road to recovery.We believe that life shouldn't be defined by a condition. We believe that no one should have to settle for crippling side effects and we imagine a future where addiction free pain relief methods are accessible and usable for anyone who needs it.
About Kevin Richardson
Kevin Richardson is a health practitioner and an independent natural health researcher.  he came to the field as a result of experiencing firsthand the benefits of using natural health remedies for sickness. Even with the advancement of medical science, Kevin felt that typical medical approach to treating symptoms rather than the actual causes of illness was not good enough. He decided to pursue a more in-depth research to understand the science of natural health and made radical changes to the way he treats illnesses on the people he helps, and was able to transform his own health and the health of his patients.
Convinced that the path of natural health will be able to greatly help the general public Kevin has been actively working with partners who share the same believe with him to help educate people on the benefits of treating illness using natural remedies.